May 30 2015.
USATF Masters Long Distance Running is staging their 2015 National Masters Half Marathon championships as part of the Rock n Roll Marathon of San Diego. On Sunday May 31st, Masters runners will gather from around the country to compete for national masters championships. Overall Masters winners will be crowned as well as age group champions.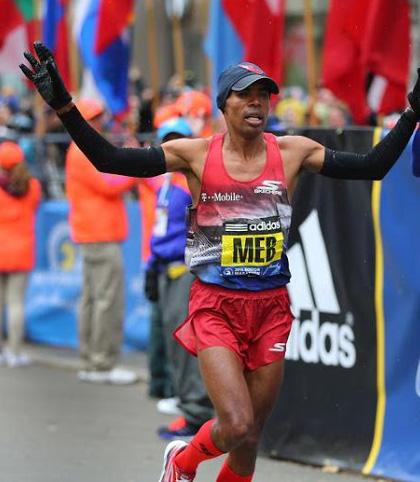 Meb Keflezighi [Keflezighi Twitter feed]
The headliners are undoubtedly two of the youngest Masters runners. Meb Keflezighi, who turned 40 on May 5th of this year and Jen Rhines who turned 40 last July, will be competing for the overall Masters win and will also, no doubt, be in contention in the Open Division as well. They are definitely the favorites to take the Overall Masters title on the men's and women's side respectively.
Rhines after winning the Half Marathon Title at Houston in 2011 in a time of 1:11:14 [Photo from: http://villanovarunning.blogspot.com/2011/01/jen-rhines-wins-usa-half-marathon.html]
There is probably only one runner on the men's side who can reasonably compete with Meb and that is the famed Masters runner, Kevin Castille, who is the defending champion. Last year on a tough course in Melbourne Florida on an extremely humid day, Castille took the title in a time of 1: 07:55. With a favorable course and better weather, Castille should lower that mark in the race on Sunday. Another factor that makes some observers feel that there will be a real race is that both Keflezighi and Castille ran in the Beach to Beacon 10K last summer. At that race course on that day, Castille prevailed over San Diego's favorite son by three seconds. Of course the 10K is arguably Castille's best distance whereas the Half Marathon is closer to Keflezighi's best distance, the Marathon. In fact Keflezighi ran a 1:02:18 last January to take 4th place in the USATF Half Marathon in Houston.And he followed it up with a 1:02:17 in the NYC Half marathon a few weeks later. If Keflezighi's half marathon fitness is anywhere close to what it was earlier this year, he will run away with the Masters crown. But Castille's presence guarantees it will be a real race.
Kevin Castille [photo from: http://www.runnersworld.com/elite-runners/kevin-castille-assaults-masters-marks?page=single]
And there is one other serious challenger. Clint Wells, who represented the USA three times at the World Cross Country Championships, and qualified for the Olympic Trials in 1996, 2000, and 2004. Wells won the Denver Marathon in 2006 and the Bolder Boulder 10K in 2008. Last October he finished 15th overall in the San Jose Half Marathon in 1:07:49. Wells could make it interesting if either of the two favorites falters.
Clint Wells leading the way up the slopes at Vail CO in the Teva Spring Runoff 10K in 2009 [photo:http://www.runnersworld.com/trails/purple-mountain-majesties?page=single]
On the women's side, there appears to be no one to challenge Rhines for the Master's crown. Initially there was a spark of excitement with the rumor that Deena Kastor might also be racing. But it turned out that Kastor is pacing, not racing. So Rhines will, most likely, be racing against the Open Elites on Sunday.
In addition to the race for the Overall Masters crowns, there are a number of exciting races to follow within the age groups.

Here is the rundown, age group by age group with the women first.
WOMEN
40-44. Rhines should easily take this group but others who will contend for the podium include Maureen Wrenn and Sharon Lemberger. Wrenn was the third Masters runner in overall at the USA Cross Country Championships in Boulder CO in February, finishing within a half minute of the renowned runners, Colleen DeReuck and Melody Fairchild. Lemberger ran 1:23:18 in the Kaiser Permanente Half Marathon earlier this year and finished 2nd in the age group at the USATF Masters 8K Championships at Brea CA in 29:32. Wrenn's cross country toughness should stand her in good stead but there is some question about the distance as this may be her first race at the longer distance. Prediction: Rhines, Wrenn, Lemberger in that order.
45-49. There are three close contenders in the Women's 45-49 group. Jaymee Marty ran a 1:23:03 to take the Women's overall masters crown in the Kaiser Permanente Half Marathon in San Francisco earlier this year.
Jaymee Marty [photo from: http://www.women-running-together.com/womenrunners.html]
At about the same time, across the country, the defending USATF F45 Half Marathon champion, Terri Rejimbal, was winning her age group at the Gasparilla Half Marathon in 1:24:30. And in March, Celestine Arambulo took the women's master's title at the San Diego Half Marathon in 1:23:41. Marty appears to have better credentials at the Marathon which may help her stay strong throughout the race. She ran a sub 2:46 in Chicago at the age of 43 and two years ago won her age group at the Eugene OR Marathon in 2:48:50.
Terri Rejimbal claims the silver medal in the 2014 USATF 15K Masters Championships in Tulsa, OK [photo:

Defining Moments (Oklahoma City, OK): David Prentice and Michael Mayberry]
Rejimbal also has some experience at the Marathon, taking first place in her age group at the Walt Disney World Marathon this past January but in a considerably slower time than Marty. It should be quite a battle. Prediction: Marty, Rejimbal, Arambulo.
50-54.
Becky Burnett and Amy Rappaport appear to be closely matched in this group with Kathleen Cushing-Murray providing something of a wild card. Burnett ran 1:41:55 last August in the Park City UT Half Marathon. Meanwhile Rappaport ran a 1:42:48 in the San Diego Half Marathon in February of this year and a 1:41:17 in the Illinois Half marathon last April. Cushing-Murray has been a strong runner at distances from 5K to 10K but she apparently decided to celebrate moving up into a new age group by moving up in distance. The Half Marathon will be a real change from her recent efforts. She took third place in the W45 group at the USA Cross Country Championships (6K) but faltered a bit at the USATF 8K Masters Championship in Brea CA where she took 7th in the W45 group in 32:28. Prediction: Rappaport, Burnett, and Cushing-Murray.
55-59. Nancy Hatfield could be viewed as a slight favorite over Meredith Mills. Given unknown differences between the courses they ran over, the race could go either way. Hatfield ran a 1:34:35 in the Big Cottonwoods Half marathon last while Mills ran a 1:36:50 in the Surf City USA Half Marathon in February and a 1:34:59 in the Oakland Half Marathon in March 2014. However it does appear that the Big Cottonwoods Half Marathon is a downhill overall and fast course. Hatfield has run other half marathons in the 1:40+ range so there are some doubts. But it could just be that Hatfield's fitness improved. We shall see. Tori Parks does not appear to be competitive with those top two but should take the third spot on the podium. Prediction: Mills, Hatfield, Parks
60-64. This age group is loaded with talent. Honor Fetherston is the favorite but there will be tough competition. In the mid-1990's Fetherston was the USATF Masters Runner of the Year, finished second overall in the Masters Indy life Circuit (Grand Prix) and established the American Masters Half Marathon Record in 1:13:54, After taking some time off from running for extended family related issues, she has recently begun competing again.
Honor Fetherston (middle) pictured with her (triplet) sisters, Shelly Sumner (L) and Sharon Vos(R)--All are champion runners [photo:http://blog.women-running-together.com/?cat=6]
She took 1st place in the W55 age group last year at the Humboldt Redwoods Half Marathon in 1:34:46 and finished 2nd behind the legendary Chris Kennedy in the W60 division at the USATF 8K Masters Championships at Brea CA in February in 35:29. But Fetherston will have two serious challengers. Marina Jones has run two marathons this year already and has taken home two age group firsts, in the OC Marathon in May with a time of 3:32:48 and in the Walt Disney World Marathon in January in 3:34:17. But she can also drop down in distance as she showed with a 1:38:02 in the Long Beach Half Marathon last October. Janet Cain has run more than 60 marathons and has won the USATF national championship in two different age groups at the Twin cities Marathon. Cain suffered a concussion, broken shoulder and bruised body form an altercation with dogs on a training run in 2013. She nonetheless showed her grit by bouncing back to take the W60 crown at the USATF Marathon Championships in the Twin Cities in October of that same year. Five months later she won her age group at the Napa Valley Marathon in a time that was 14 minutes faster, 3:43:49. Prediction: Fetherston, Jones, Cain.
65-69. JoAnne Rowland appears to be the class of the field in this age group. She ran a 1:47:06 in the Clarksburg Country Run (Half Marathon) in 2013 and ran just a bit slower in 2014 at 1:48:14. Sharon Chaix and Jane Williams should battle it out for the other two spots on the podium. Prediction: Rowland, Chaix, Williams.
70-74. Norma Thomas should enjoy a comfortable margin over Carol Turner at the finish line. In 2012, Thomas ran 1:56:44 in America's Finest City Half Marathon. Earlier this year, Thomas showed good form in winning her age group at the USATF 8K Masters Championship in a time of 43:29.
Pat Herr (L), Norma Thomas (C) and Dorothy Strand (R) and their winning medals, all affiliated with A Snail's Pace Running Club at the 2015 USATF 8K Masters Championships in Brea CA on Feb 22 2015. [photo: Thuc Tran]
Turner has run three half marathons this year, all in the 2:20 - 2:25 range. Prediction: Thomas, Turner.
MEN
40-44. As for the overall race this should be a race between Keflezighi, Castille and Wells with the prediction for the overall race carrying through to this age group that these three gentlemen share. Prediction: Keflezighi, Castille, Wells.
45-49. This should be a highly competitive group as well. Chris Knorzer appears to be the favorite with the fastest recent time, a 1:12:36 in the Humboldt Redwoods Half Marathon earlier this year.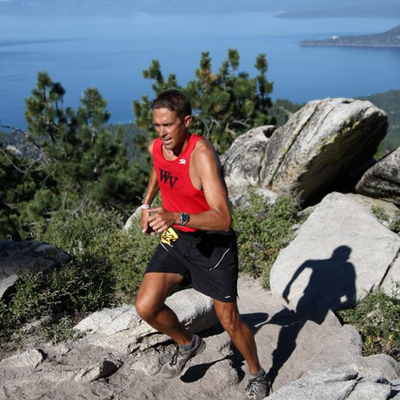 Chris Knorzer's Twitter profile picture [https://twitter.com/knorzer]
But he has two sub 1:16 challengers in Rob Arsenault who clocked 1:14:32 a couple of years ago in the Surf City USA Half Marathon and Rob Decot who ran 1:15:45 in the Grandma's Half Marathon last year. And Robert Verhees is not far off with a 1:17:02 in the La Jolla Half Marathon earlier this year. Arsenault is better known for the middle distances on the roads, from 5K to 10K and he has not run a half marathon since 2012. Prediction: Knorzer, Decot, Arsenault
[footnote--After going to press I learned that Knorzer has had to scratch from tomorrow's race.]
50-54. This group features a rematch between Spyros Barres and Ricardo Maldonado who battled for 1st and second in the age group competition at the USATF Marathon Championship last year in the Twin Cities.
Spyros Barres sprints to the finish line, slamming the door on the M50 Championship at the USATF Masters 10K Championship in Dedham MA on April 26 2015 [photo by Krissy Kozloski--http://krissyk.smugmug.com]
In that contest, Barres edged Maldonado by a mere 13 seconds, 2:38:48 to 2:39:01. But Maldonado may still be in marathon recovery mode this year. He apparently not only ran the Boston Marathon in April but also the Eugene Marathon in Oregon 3 weeks later. One would think he might be a bit tired. But we shall see; he has certainly raced himself into marathon and half marathon fitness. Maldonado ran a 1:13:32 at the PF Chang R n R Half Marathon in March. And let us not forget David Olds who mostly runs shorter races. Nonetheless, in October of 2011 Olds ran 1:14:02 in the Rock N Roll L.A. Half Marathon. Olds also ran the Mammoth Lake Half Marathon in 2013 in 1:19:31 but that race is at high altitude so is probably not indicative of his fitness.
Francis Burdett (L), David Olds (C), and Ricardo Maldonado (R) with their medals in the 50-54 age division at the 2015 USATF 8K Masters Championships in Brea CA on Feb 22 2015. [photo: Thuc Tran]
He could make things interesting for Barres and Maldonado. Prediction: Maldonado, Barres, Olds
55-59. The Men's 55-59 group should also be a barn burner. Masters Runner of the Year in 2013, Brian Pilcher should lead the way. Earlier this year he ran a 1:14:50 at the Kaiser Permanente Half Marathon in San Francisco.
Brian Pilcher, finishing 2nd in the M55 group and taking the overall age graded title for Masters Men at the USATF Masters 10K Championship in Dedham MA on April 26 2015 [photo by Scott Mason]
But Fred Zalokar should give Pilcher all he can handle; Zalokar ran a 1:14:54 at the PF Chang Rock N Roll Half Marathon in January and then a 1:15:13 on May 3rd in Vancouver, BC. And we cannot ignore Joe Sheeran who ran a 1:15:23 at the Cinco de Mayo Half Marathon a couple of years back and has been a real tiger on the cross country track and the roads over the last year. So Pilcher will need to be on his game to fend off these challengers. Prediction: Pilcher, Zalokar, Sheeran.
60-64. Through what appears to be something of a fluke, the age group that often has one of the greatest number of runners, has only one entrant, Stan Ideker.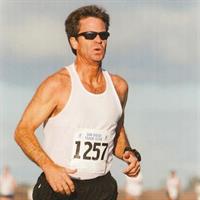 Stan Ideker's Athlinks Profile Picture [http://www.athlinks.com/athletes/162239905]
Two of the stronger runners in this age group who typically clock in the mid 1:20's or faster, Peter Mullins, the defending champion, and Gary Romesser, have been engaged in injury rehab over the past year. Ideker regularly runs half marathons and usually clocks in the 1:39 to 1:43 range. That will be enough for the crown unless there is a late entrant who is unknown.
65-69. This group is almost as empty as the one immediately above. Injuries have played a role here as Paul Carlin, the defending champion in 1:29:29, and Lloyd Hansen, the owner of the fastest half marathon among the 65-69 group last year, are both nursing injuries. That leaves it wide open for Hank Sullivan and Douglas Wood. Sullivan took the M65 crown at the San Diego Half Marathon in March 2014 in 1:33:18 and took the age group crown in the Sue Krenn 15K in 1:05:02. Wood appears to be focusing a bit more on triathlons and does not seem to be competitive with Sullivan's times when he hits the roads. Prediction: Sullivan, Wood
70-74. This age group has only one runner but that one is some runner! Jan Frisby has been tearing up the paths and the roads in 2015 after battling injuries for a few years. Despite those injuries, Frisby still managed to train consistently enough to take home 5K road championships in 2011 and 2012 and cross country championships in 2012 and 2013. Age Group Runner of the Year in the mid-1990's, Frisby has returned to the top of the group this year. So far he has run and won each of the three national championship Masters races that have been held this year, the 8K and 10K road championships as well as the 8k USA Cross Country Championship. And this past weekend at the Marin Memorial Day Race in California, Frisby broke the American Masters 10K record for the M70 group in 40:14.
Frisby has not been training for the Half Marathon so a record is not likely on Sunday but Frisby will no doubt run a good race despite the lack of competition and the differently targeted training. Frisby is looking forward to the return of Doug Goodhue, the silver bullet from Michigan, who has been the dominant runner in his age group for the last few years. Goodhue suffered an injury at the end of last year and it has kept him from competing yet this year.
75-79. Richard Williams will run unopposed. He runs many half marathons, typically in the 2:08 to 2:20 range. So even if opposed he might well be the favorite in this group.
80-84. Richard Burch runs unopposed in this category. Although it appears this will be Burch's first half marathon of the year, he ran two in 2014, finishing in 2:37:53 in August and in 2:25:09 in September, both in Minnesota. Clearly Burch is a formidable runner who is typically the favorite when he runs, whether opposed or not.
=======================================================================
Age-Grading. Men and women are combined in the competition for the top ten age-grading awards in this race.
It is always tough to handicap the age-grading contests
One would expect that Jennifer Rhines, Meb Keflezighi and Kevin Castille should be up towards the top.
.

But it is never safe to bet against Brian Pilcher. Other men with a shot include Ricardo Maldonado, Adam Weiner, Clint Wells, Tom Dever, and Spyros Barres. And even though he is not pointing toward the Half Marathon in his training, let's mention Jan Frisby as a possible contender. Other women who may contend include Marina Jones and Honor Fetherston.
It should be a great kickoff to what we hope will be an annual USATF event in San Diego for years to come.