Preview as of 9 am Sep 16 2014 (based on online information search and list of entrants at USATF site)
The USA Track and Field Masters 5K Road National Championships are scheduled for October 5, 2014 in Syracuse, NY as part of their annual Festival of Races. Organized by Dave Oja, this is one event that elite Masters runners look forward to each year. Now in its 7th consecutive year as host of the 5K championship, it is very well organized, Dave goes out of his way to make all of the runners feel appreciated and knows so many on a first name basis. And, by the way, the course is flat and fast; it has about as few and as gentle turns as you can have for an out and back course. Dave prides his race on having 'world class' age-graded performances (90% or better) for almost all of his individual age records. He has his hopes set on at least one more of those being chalked up this year, that for male 70 year olds, but more on that below. The fastest men's times on the course can be observed here: http://www.festivalofraces.com/agegroupmen.html.
Today I will preview the Men's races and the Women's later this week. Here's a pic of
Andrea Darmad
, overeall winner of the race last year in 15:21; he beat the overall masters winner,
Chad Newton
, from Pisgah Forest, NC representing the Atlanta TC, by a mere 4 seconds.
Andrea Darmad, overall winner 2013 FoR 5K in 15:21
First the course: It starts by the parking lots for the Syracuse University athletic complex. Pretty flat at the start, it soons turns left with a slight downgrade. Then around the 1K mark there is a gentle turn to the right as runners start to run along a parkway. Eventually you wind along to the half way point where runners swing around to the other side of the road (180 degrees but not a tight 180) to head back along the way they came. At about 4.5 K you are going back up the only slight upgrade turning right. Once you crest the grade there it is about a quarter mile slightly downhill to the finish line.
Overall:
First for the overall Masters race in 2014. The top three last year were
Chad Newton
(Atlanta TC) [15:25],
Scott Weeks
[15:27] (NY), and
Kristian Blaich
(Atlanta TC) [15:29] (GA). It should be another barn-burner this year as Newton and Blaich are entered already along with a newcomer to Syracuse,
Greg Mitchell
(Adidas), who has been tearing up the roads this year at USATF championships from 8K to the Half Marathon. His 25:07 on the tough 8K course at Brea, CA shows that, although stepping down in distance, he is likely to be a serious contender for the top spot.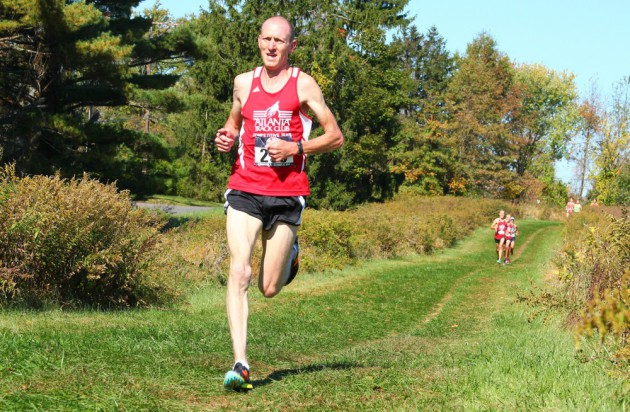 Chad Newton, establishing a lead on a XC course
Greg Mitchell from National Masters Club Cross Country
Now the age groups:
M40
: As with the overall, this should be a battle between
Newton
and
Mitchell
, along with
Weeks
, if he enters between now and race day. Last year only 12 seconds separated first from third and it may be even tighter this year.
M45:
Based on entries as of this date, Sep 16 2014, it appears that
Kristian Blaich
(Atlanta TC) should run away with the age group award. Last year he beat
Kent Lemme
MA) by 12 seconds but Lemme has not yet entered. If Lemme stays away there are a number of runners entered who should compete tightly for the next two podium positions including:
Francis Burdett
(Greater Springfield Harriers)
, Brian Crowley
(Garmin Runners), and
Matthew Whitis
(Atlanta TC).
Kristian Blaich on the track




M50:
Last year
Kevin Miller
(KS), dominated this race, winning by 40 seconds in 15:51.
Alan Evans
(NY) had a fairly comfortable 16 second spread over
Gary Droze
(Fl) for 2nd place. As of today, only Droze is entered, suggesting that unless Miller and Evans show up between now and race day, he should be the favorite. Apart from late entries, other runners such as
Troy Holland, Carl Nordheilm
(Atlanta TC) and
Nathan Skipper (Atlanta TC)
should be competitive for the podium with recent sub-18 performances.
M55:
It is a little tough to handicap this race right now because none of the podium crowd from last year are yet entered.
Brian Pilcher
(CA) dominated the race last year, winning by 40 seconds in 16:21 and had such a great set of 2013 races that he was voted Male Masters Runner of the Year. But Pilcher has had a very different year in 2014, leaving us uncertain what to expect. Injured toward the very end of 2013, Pilcher did not compete in the first few months of 2014. But he did eventually show up on nationally posted results including a 17:21 5K on May 10th and a 16:54 on May 17th so it appeared he was in pretty good form. But the most recent entry I can find is a 7:01 pace 7.5 mile trail run which could either indicate a re-injury or running for fun. So as of this date I cannot guess at his fitness; others may know more.
Brian Pilcher, leading the pack
Should Pilcher be off his game or not enter for any other reason, the early favorite should be
Ken Youngers
(Atlanta TC) who took 2nd in 17:02 last year.
Charlie Andrews
(NY) who battled Youngers most of the way only to finish 5 seconds back, is not yet entered. Others in the hunt include
Jeffery Dundas
(Atlanta TC) and newcomer to the M55 group,
Dominic Wyzomirski
(Steel City TC--PA), both of whom should finish well under 18:00.
M60:
Last year
Richard Larsen
(MA)
, Peter Mullin
(TX)
,
and
Dale Campbell
(CA) duked it out over the 5K course, finishing in 17:47, 17:49 and 17:59 respectively. None of those fellows are yet entered but a relative newcomer,
Tom McCormack
(Atlanta TC-TN), is. He showed up at the USATF Masters 5K Cross Country
Tom McCormack, featured in Runners World
championship last year and ran away with the first place medal in 17:17, winning by over a minute. Since that time he has added national championships in the USATF 12K (national championship road race), the 10K at Dedham , the 5K and 10K on the Wake-Forest University track, and most recently at the one mile run as part of Michigan's CRIM races. None of those races were close. Even the great masters runner, Peter Mullin, who has been tearing up the roads for the last few years seems unable to stay with McCormack at least for races 12K and under. Should any of last year's podium finishers not show up, a newcomer to the M60 group,
Reno Stirrat
(Shore AC), should finish well under 19:00 and be a potential competitor for the podium.
Peter Mullin, from one of his many outstanding road races
M65:
Based on current entrants, the great Masters runner,
Terry McCluskey
(Ann Arbor TC--OH) is the clear favorite. He ran the USATF Marathon championship last year but the year before ran 18:07 at Syracuse. But it is not clear whether McCluskey is in that kind of form this year. His Boston
Terry McCluskey, Senior Grand Masters winner at the Half Marathon at Parkersburg, WVA
Marathon in April may have taken something out of him. In any case, the fastest 5K I can find listed this year is a 19:22 in August, but it is hard to say much based on one race. He was a very comfortable age group winnerin that race so may not have felt the need to push. My best guess is he'll come in under 19:00 and that should be fast enough to beat anyone currently entered. None of the top 3 from last year are currently entered. Last year
Bill Dixon
(VT) and
Lloyd Hansen
(Ann Arbor TC--UT/MI) battled it out for the top spot, finishing in 18:24 and 18:28. They have both been running well this year, Lloyd with a number of PR's, so if either enters, I would make that one a slight favorite over McCluskey. If Dixon and Hansen stay away,
Jerry Learned
(Atlanta TC) should have a good shot at making the podium. I edged out Learned last year for 3rd by 9 seconds, and had a strong set of races in the first two-thirds of the year. But I have been battling a hamstring injury since August 11th and it seems unlikely I will be race fit on the 5th.
M70:
This is the one that Dave Oja has been waiting for. Two of the grand lions of Masters distance running are set to go at it.
Doug Goodhue
(Ann Arbor TC), another of the great Masters distance runners for the past decade at least, has ruled the M70 group since entering a couple of years ago. He won it last year in 19:35 even though he was still coming back from an injury.
Doug Goodhue, pushing the limits, at the National Road Race Championships in Alexandria, VA in 2013
Jan Frisby
(Boulder Road Runners) will challenge Goodhue for the first time in the M70 group although they did battle often enough in the past. Now Frisby is coming back from an injury that kept him off the roads for a full year. Two years ago he won the M65 group in 18:58. He needs to finish in 19:35 or better to give Dave Oja a world class time for the 70 year old category. What we do not know is whether Frisby is race fit. I have found no results for him posted online this year. But if Frisby is race fit and Goodhue can run as well or faster than last year there seems a good chance of
Jan Frisby winning his age group at Syracuse a few years back
him pushing or pulling Frisby enough so he can give Dave the record he desires. No one else in the group seems poised to break 20.
Przemyslaw Nowicki
(Shore AC)
and
Rick Stetson
(Gate City Striders) appear capable of running low 21's or better so may battle each other for a podium position.
M75:
Last year
Fay Bradley
(KS) and
Thom Weddle
(MN) battled it out with Bradley winning by a
Thom Weddle on the track
half minute at the end in 23:13. And
Harry Carter
(MA) finished a minute behind Weddle. As of today, none of the three are entered so this group is wide open.
John Elliott
(Potomac Valley TC) was not in the race last year but has recently run 23:05 and 24:48. If the faster of those two times is indicative of what he will bring to Syracuse, he would have a heck of a battle with Bradley if he enters. Without Bradley in, it would appear Elliott is the current favorite.
James Leitz
(Clifton Roadrunners), with recent times in the mid-23's to low 25's, could also factor into the race for the podium.
M80:
Eric Seif
(NY) won this group handily last year in 28:34 with
Wally McRae
(Syracuse Chargers TC) a strong second in 31:05 and
Fritz Schlereth
(Syracuse Chargers TC) in third at 32:25. McRae and Schlereth are already entered and there is a new guy in the M80 group, Jon Desenberg (Ann Arbor TC) who has some recent outings in the 29 to 30 minute range. If Seif enters, he and Desenberg could have quite a contest for first.
M85: Willis Moses
(NY) is back to defend his title in this group. Last year he defeated the lone contender by a country mile, winning in 32:38. So far no one has signed up to try to give him some competition this year.
So Dave Oja has attracted a strong field already and it is likely that some of the stronger runners who
Dave Oja, Race Director, Syracuse Festival of Races
have not yet entered will do so in the next two weeks. As usual it will be an intriguing set of races on the Men's side. Next up in a few days will be my preview of the Women's races.